When you're a kid, your schoolÂ's principal is probably one of the highest authority figures you know. Principals not only command respect and fear from children, theyÂ're essentially the president of the school. ThatÂ's why itÂ's such a huge deal if you ever run into your principal at the grocery store or have to (gulp) sit down with them one-on-one. One principal in Iowa decided to use his prestige to encourage kids to read more, and he wasnÂ't afraid to get a little messy in the process.
Principal Jeff Hendred of Wilson Elementary School in Ottawa, IA wanted his students to improve their reading scores on standardized tests. Knowing that teaching is only part of the education battle, he decided to make a deal with them and offer an incentive.
Hendred told the kids that if they if the schoolÂ's reading scores went up 5% he would go down a water slide in his full suit and tie at the end of the year.
The result? The students improved their reading scores by 8%. True to his word, Hendred enthusiastically slid down the waterslide and into the pool, drenching his suit in the process (he spared his shoes from getting soaked though).
The kids absolutely loved it. So much so that they dared him to go down the other water slide headfirst. He obliged.
"You know, for them it's excitement about pushing themselves hard—it's about what can they do?" Hendred told Ottumwa Radio News. "To see their efforts pay off […] it's exciting for them."
Hendred has more plans to keep his students interested in reading over the summer, including getting to eat lunch with the principal as part of a special summer program. While that might be something that could intimidate an elementary school student, these kids all seem to love their wacky principal—just check out his dance moves: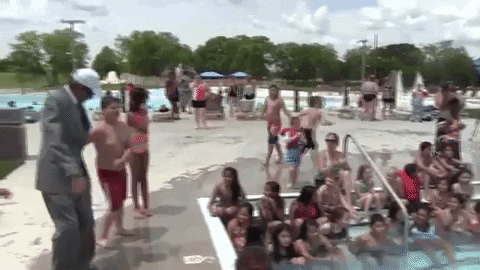 h/t: Ottumwa Radio News