Danny Trejo is a successful TV, film, and voice actor who is as beloved as he is prolific. Seriously, his IMDB list is longer than a CVS receipt. You may remember Trejo from such iconic roles as Navajas in Desperado (1995), Razor Charlie in From Dusk Till Dawn 1-3, and Machete in Planet Terror/Grindhouse (2007). He's also appeared on Stargate: Atlantis, NYPD Blue, and Walker, Texas Ranger. Whether you recognize him or not, this actor is everywhere. And now, he can add real-life hero to his lengthy resume.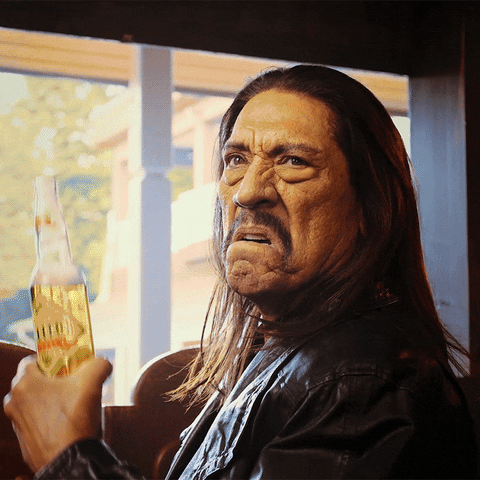 CNN reported that Trejo saved a baby in Los Angeles on Wednesday. The actor witness a car accident: One car was overturned during the crash, and he noticed that a baby boy was still inside — alive, safe, and strapped into his car seat.
Not only is @officialDannyT (Danny Trejo) one of the nicest actors, he's also a #hero!

He was right behind a crash in Sylmar and pulled a special needs baby out of an overturned car. He distracted the boy until grandma was OK. ?? —> https://t.co/tS2Za4bZVZ@ABC7 pic.twitter.com/U9iLzAkHkA

— Veronica Miracle (@ABC7Veronica) August 8, 2019
He sprang into action. Trejo cleared away debris, and, with the help of another good Samaritan, was able to rescue the baby. The child's grandmother was driving the car, and was rescued by local firefighters.
The baby, who has special needs, was understandably very afraid, but Trejo soothed him as his grandmother was saved. "He was panicked. I said OK, we have to use our superpowers. So he screamed 'superpowers' and we started yelling 'superpowers.' I said 'do this, with the muscles. He said 'muscles.' We got kind of a bond. I kept facing him away from the accident," Trejo told ABC affiliate KABC-7.
Trejo also said that he noticed a car run a red light — not the car containing the baby and grandmother. "Pay attention," he warned, while noting that "the only thing that saved that little kid was his car seat, honest to God."
The story quickly went viral, with fans lauding Trejo's heroism, as well as reaffirming the importance of seatbelts and car seats.
Not only is @officialDannyT (Danny Trejo) one of the nicest actors, he's also a #hero!

He was right behind a crash in Sylmar and pulled a special needs baby out of an overturned car. He distracted the boy until grandma was OK. ?? —> https://t.co/tS2Za4bZVZ@ABC7 pic.twitter.com/U9iLzAkHkA

— Veronica Miracle (@ABC7Veronica) August 8, 2019
He's a good person and a fine actor. Thank you for saving that child.

— Dianna Allen (@DiannaA74656475) August 8, 2019
Love and kisses #DannyTrejo, you are a real HERO. pic.twitter.com/4sjFDiedPV

— Paris Lovelace (@ParisBr00506835) August 8, 2019
Reminder: Danny Trejo is 75 and out here rescuing children from overturned cars. Heroism is ageless, timeless, and packs some badass tattoos. pic.twitter.com/ANzJsHvQyh

— LaToya Morgan (@MorganicInk) August 8, 2019
Man: There's a baby in that overturned car.

Danny Trejo: I'll save the baby.

Man: That's impossible. You can't.

Danny Trejo: pic.twitter.com/vdDaRetTnE

— Joel Rivera Schoenbach (@Joelenbach) August 8, 2019