Animals can be born with special needs just like humans. And just like humans, they need some special care. One very lucky pup received the special care she needed in a very fun and unique way.
This rescue dog without front legs got a wheelchair made out of Lego blocks.
Gracie is a rescue dog with no front legs.
When she was only six weeks old, the two-legged dog was found with maggots around her eyes and feet, along with other ailments. A vet in Kennesaw, Georgia, healed her and then turned her over to the Mostly Mutts animal rescue. That's where she found her forever family.
A mother and son met Gracie and knew that they had the perfect solution to her mobility issues.
Tammy Turley and her son Dylan adopted Gracie, and Dylan engineered a wheelchair for her. He built a wheelchair out of Lego pieces and attached it to Gracie's torso with velcro straps.
Tammy said, "I think her bubs get sore, so that's why we really started to work on the wheelchair, and that just kind of came about because of her bouncing. I don't want her to have heart or lung issues by bouncing around."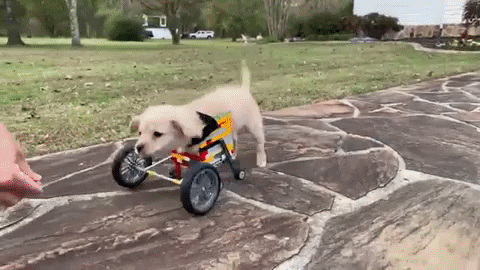 It's been over a year since the Turleys adopted Gracie, and she's very happy with her family.
Tammy said, "Some people were saying: 'A dog like that should be put to sleep. What quality of life is she going to have?' But now that everybody's met her they're like: 'Oh my gosh she's so happy!'"
Gracie has a very active Facebook page where all her fans can get updates on her as she bops around town with her wheels.