Dolly Parton has spent her entire career putting people and goodness first.
A few months ago, we learned Parton's million-dollar donation helped fund research that led to the Moderna COVID-19 vaccine.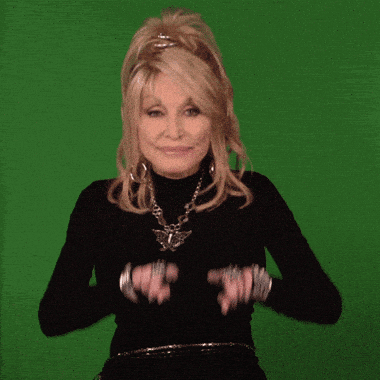 In addition to her donations, she founded the Dollywood Foundation in 1986 and works on multiple literacy initiatives.
can't trust nobody who don't like Dolly Parton sorry

— HOOD VOGUE is tired of poverty (@itskeyon) February 18, 2021
if Dolly Parton can fund a vaccine, donate millions of books to children and write Jolene and I Will Always Love You in the same day, I can surely make it to Friday.

— Owl! at the Library 😴🧙‍♀️ (@SketchesbyBoze) February 18, 2021
Now Parton is getting praise for turning down a statue of her at the Tennessee Capitol.
A native Tennessean, Parton is proud of her state. She has invested in Tennessee business and opened multiple entertainment facilities, including the famous Dollywood, which sees nearly three million visitors a year.
But she's not ready to be honored in this way. Not quite yet. She went to Twitter to explain.
February 18, 2021
She makes clear she is honored by the gesture and thankful to the Tennessee legislature, writing:
"I am honored and humbled by their intention but I have asked the leaders of the state legislature to remove the bill from any and all consideration."
According to Parton, now is not the right time to put a spotlight on herself.
"Given all that is going on in the world, I don't think putting me on a pedestal is appropriate at this time," she wrote. "I hope, though, that somewhere down the road several years from now or perhaps after I'm gone if you still feel I deserve it, then I'm certain I will stand proud in our great State Capitol as a grateful Tennessean."
She signs off with "In the meantime, I'll continue to try to do good work to make this great state proud."
People reacted positively to Parton's thoughtful rejection, with the tweet receiving nearly 400K likes as of this writing.
Dolly Parton's case for her not wanting a statue is also a case for why we want to give her a statue https://t.co/iQftuyUVTW

— Obi Arisukwu (@ObiAris) February 18, 2021
Actually starting to think @DollyParton might be planet earth's first perfect person.

I LOVE HER. https://t.co/VisliwDT2E

— Emma Kennedy💙 (@EmmaKennedy) February 18, 2021
Some noted it was classic Parton.
Dolly Parton asking that the Tennessee Legislature kindly not make a statue of her right now is the most Dolly Parton thing she could possibly do pic.twitter.com/RLXP7XSd1G

— Appodlachia Podcast (@appodlachia) February 18, 2021
I have no words. Dolly Parton is ALWAYS thinking of others far and above herself. @DollyParton you are one of the most amazing human beings God ever placed on this Earth. pic.twitter.com/O8RiVuwaKT

— 🏳️‍🌈 Lance 🏳️‍🌈 It's a new day. (@LanceUSA70) February 18, 2021
It definitely makes sense coming from the same woman who turned down the Presidential Medal of Honor.
Dolly Parton really said "I'm not receiving a presidential Medal of Honor from Trump and I'm not letting you build a statue to me in the middle of a pandemic" because unlike almost every other insanely famous person her ego is not the driving force in her life

— Claire Willett (@clairewillett) February 18, 2021
Anyway, we will let this tweet speak for all of us:
may we all live our lives with the humility and grace of Dolly Parton

— Shiv Ramdas (@nameshiv) February 18, 2021