A boy who saved his sister from choking—thanks to watching a show featuring wrestler-turned-actor John Cena—has received a video from Cena heralding him on his life-saving skills.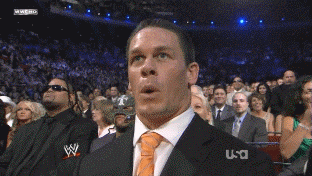 The remarkable story, from Hazelton, Pennsylvania, involves 8-year-old Jaxson Dempsey and his 20-month-old sister Lelia.
The two children were being driven by their father, according to a March 29 report from WNEP-TV, when Lelia started to choke on a chicken nugget.
Jaxson remained calm, asking his father to pull over, and then used the heel of his hand to strike Lelia's back. That allowed the food to be dislodged from Lelia's throat, and she was able to resume breathing even before their father made it around to her door.
Jaxson said he learned the maneuver from a Nickelodeon show, The Substitute, in which Cena finished an episode by walking kids through how to execute it should they encounter a choking child.
Cena was reportedly one of the first people to reach out to Jaxson to congratulate him for his heroics.
"I heard a story about you, and it really touched my heart," said Cena, according to the Good News Network. "A story that in a time of crisis, you were brave enough to take action… Usually, when bad things happen, one of the toughest things for all of us to do is to take action. You jumped right in, helped out the best you could. [By] doing so, you saved your sister's life. I really want to say thank you for being you, Jaxson. Thank you for being an inspiration; thank you from all of us."
Matt Dempsey, the father of the children told WNEP-TV that he's not surprised that his son was able to think quickly and save Lelia's life.
"He amazes us every day," Matt said, "Some of the things he says and does, and his actions … we're simply blessed to have the child that he is, the things that he does for his family, his friends, for his little sister. He's a good big brother."
Matt added that he's grateful that Jaxson was there with him to alert him to the situation.
"If I was by myself and Jaxson wasn't with me, and I stopped and gave her a chicken nugget, I couldn't hear her because she was choking," he confessed. "She wasn't coughing; she wasn't panicking. She just had no air going through; she wasn't breathing. Thank God Jaxson was there because, without him, I don't know if Lelia would be here."